Arctic Circle Sleddog Expedition
The Arctic Circle Sleddog Expedition is an expedition organized by Team Petter Karlsson Sleddogs. It is an expedition under racelike conditions to explore the possibility of a future race in similar fashion on these trails. We invited some friends of ours to join us and now there will be 8 Mushers and their dogs going out on this adventure. The total distance is estimated to about 580km, allthough we will only know exactly after we made it back home.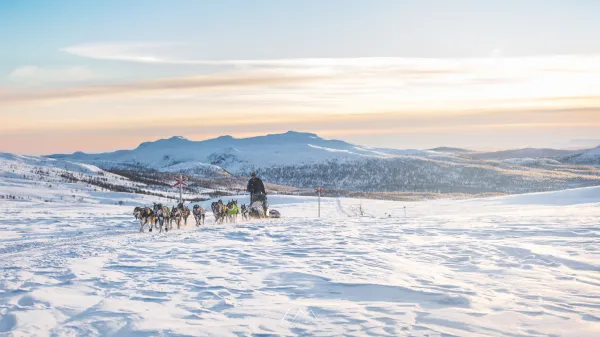 How to follow

If you want to follow this epic expedition follow our Facebook (Team Petter Karlsson Sleddogs) or Instagram (@petterkarlssonsleddogs) accounts for updates! All teams will also have GPS trackers on their sleds, so you can see in real time where they are on the trail. Find the button for the GPS tracking at the top of this page. Teams will Start Thursday 25th of March at 10.00 in the morning, and if everything goes well the first teams are expected to be back early Sunday morning.
Route

The expedition starts in Slussfors at 10.00 in the morning on Thursday the 25th of March. After about 80km teams will reach the Checkpoint of Ammarnäs, where there will be a depot, water, straw, a veterinarian and also a possibility to drop dogs. After a total distance of about 210km teams will reach the Checkpoint of Vuoggatjålme just a few hundred meters north of the arctic circle, where there will be once again a depot, water, straw, a veterinarian and also a possibility to drop dogs. From Vuoggatjålme 1 the teams will go north to Mavas, from there they will make a loop by going east to Miekak and then northwest to Pieskehaure and then south back to Vuoggatjålme 2. The total distance of this loop is currently estimated to about 160km. From Vuoggatjålme 2 the teams will travel back to Slussfors the way they came, with another checkpoint in Ammarnäs.
The rules

For this expedition there will be some rules in place to ensure the safety of all dogs and people. All teams will have to carry the mandatory gear like they would need for the Finnmarksløpet and maps that cover the whole area they will be driving through. To ensure that the teams stay a bit together in the beginning, they are not allowed to leave the lake about 3km north of Vuoggatjålme before 18.00 Friday evening. Between Vuoggatjålme 1 and the finish line there is 10h of mandatory rest that needs to be taken. This rest can be taken in the checkpoints, but also camping out on the trail. To ensure that every team took all their mandatory rest, everyone will need to reset their GPS at the restart in Vuoggatjålme 1, and when arriving in Slussfors it has to show a minimum of 10h stopped time. In either Vuoggatjålme 1 or Vuoggatjålme 2 a veterinarian will check out every dog in each team.
Covid-19 precautions

The expedition is taking place in a very remote area. During the whole expedition, Mushers are not allowed to have contact with outside people and they are also not allowed to go inside any building. There can not be more than 5 Mushers at a Checkpoint at the same time. If a Musher gets to a Checkpoint where already 5 teams are resting, he needs to pick up his drop bag and immediately continue down the trail. It is not allowed to camp out closer than 1km to a Checkpoint.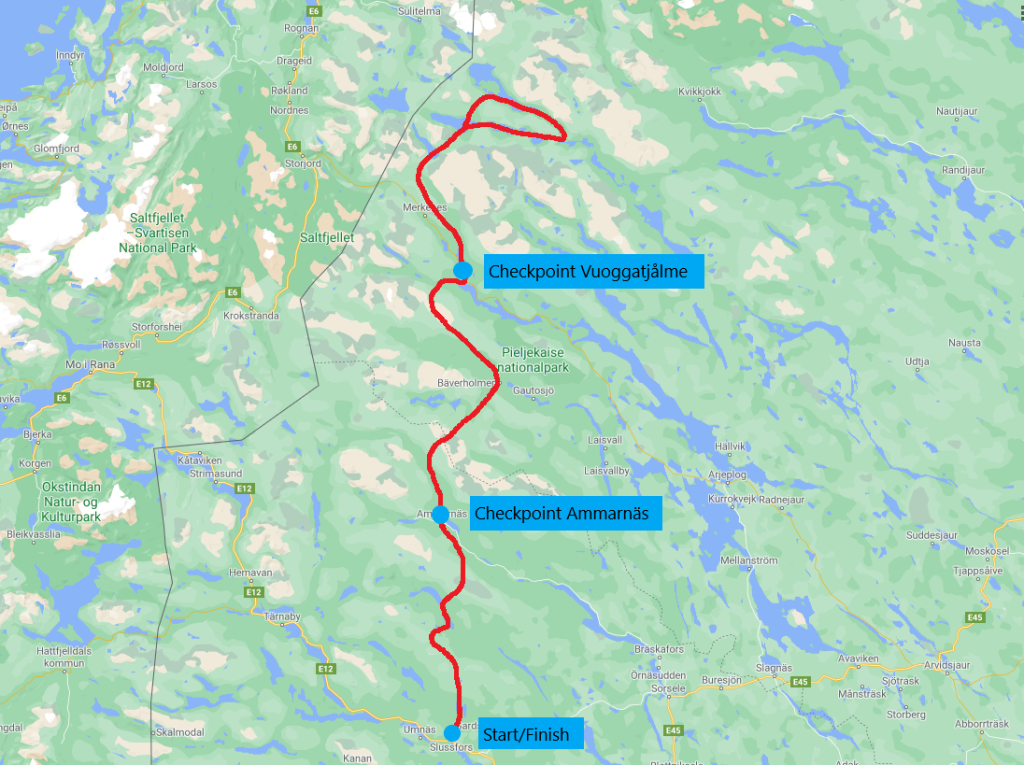 The AxaEco Best Explorer Award
There will be an award for the best Explorer given out. AxaEco was kind enough to donate a Kungen long distance sled (valued at SEK 27.560 incl. moms) as an award for the best Explorer of this expedition. There will be a Jury deciding on who will get the AxaEco Best Explorer Award, and they will award it to the musher that showed the highest level of the following: